Bio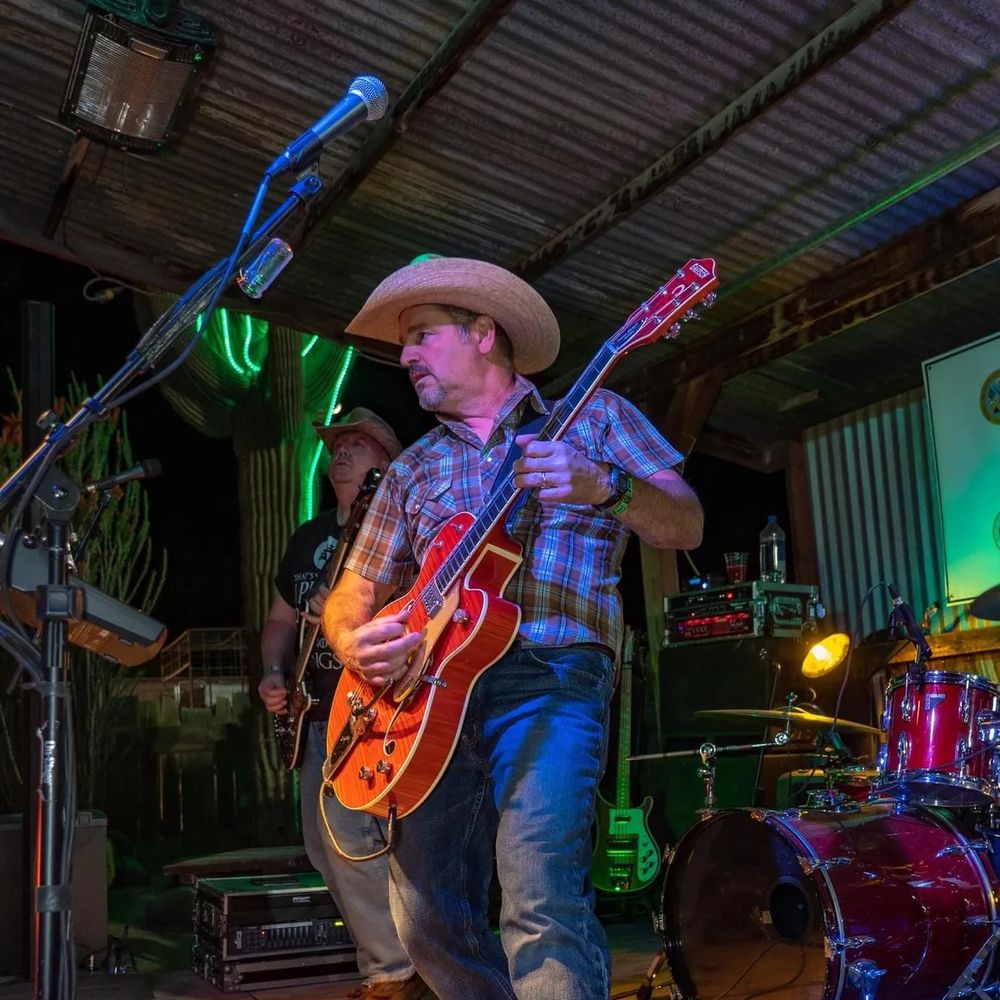 Raised in Clinton Indiana, southern Arizona based musician and composer Patrick Rayl is a talented and gifted singer and live performer of music.  He has been performing throughout southern Arizona for years and has established a local fan base. Patrick is also a retired Gunnery Sergeant serving 21 years of active duty service in the United States Marine Corps.  His musical talent blended together with his years of military service and life experiences provide him with the ability to write about overcoming life's diversities.  One of Patrick's life time achievements was being selected as the featured community guitar player for Gretsch Guitar Company for the month of September 2021.  Visit Patrick Rayl | Gretsch   https://www.gretsch.com/guitarist/patrick-rayl/ 
As a self-taught artist, Patrick started playing guitar at nine years of age and his first guitar was an acoustic ordered from a  catalog. He later purchased his first electric guitar, a Tesco Del Ray with only one string from a friend for fifteen dollars. This gave birth to his passion for playing the guitar and he continues his quest to improve his knowledge skills and abilities in mastering this instrument. Patrick continued his musical passion obtaining a Bachelors of Professional Music Studies, Guitar Major from Berklee College of Music, Boston, Massachusetts.  Patrick was mentored for nine private semesters with Professor Norman Zocher.  https://www.berklee.edu/people/norman-zocher.  Patrick's mother was a classically trained pianist and is cousin to the late great jazz pianist "Johnny Bunch,"  who was Tony Bennett's music director from 1966 until 1972.     https://en.wikipedia.org/wiki/John_Bunch 
 As a live performer, he delivers a powerful vocal and skillful yet soulful guitar performance that is captivating to all covering a broad spectrum of country, southern rock and rock-n-roll music style music. Patrick performs cover and original material regularly with his three-piece band. Patrick's visionary gift allows him to take a song and convert it into a dynamic and powerful musical production that all can enjoy and appreciate. Patrick's style is a unique blend of country, blues, and rock-n-roll. 
Patrick's top vocal influences are John Lennon, Paul McCartney, Chuck Berry, Brian Setzer and Ronny Van Zant.  His top guitar inspirations and influences are Chuck Berry, Gary Rossington, George Harrison, and Brian Setzer.  His equipment includes a variety of Gretsch and other name brand guitars, and named brand tube amplifiers, Nickel Wound Light 10-46 strings,  medium/heavy standard guitar picks.  Patrick's hats are made in the U.S.A. by Master Hatters of Texas. http://www.masterhatters.com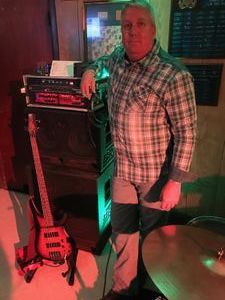 John Tooley hails from Warrenton Virginia, Retired United States Army Sergeant First Class (SFC), has a diversified background in music, he plays the clarinet, soprano sax, chanter, and bagpipes (always a learning process).  By the time, he attended high school in Augsburg Germany, his love of music had been cemented into his life, by growing up with parents that were musically inclined.  His father played the trumpet (flugelhorn), and his mom was adept on the classical guitar. 
He was lulled to sleep by his dad's jazz records, and him playing along with his trumpet, then his mother would do the classical guitar, delving into the flamenco flavor or providing the airiness of strumming through the house.  The desired effect was to make the three boys calm down, it worked. 
John was drawn to the Bass Guitar in 1979, while in high school, but sports always kept him busy.  The decision to pick up the bass may have come from the promise of being more attractive to high school girls.  Whatever the reason, the bass stuck, and John became captivated by pursuing his calling as a musician. 
He learned to play the bass not through incredible insight or advanced practice methods, but by just playing for hours and hours, fascinate by the sound of the instrument and the joy of playing it.  Reflecting on history and time, John's brothers have commented that they grew accustomed to falling asleep to the sounds of him learning songs through the night, and on occasion miss the sounds.  John received formal training in Fusion Jazz from the Bass Institute of Technology (BIT), and additional Musicians Institute (MI) College of Contemporary Music associated instructors throughout his life and into his military life. 
While in the United States Army, John had the opportunity to join or form various cover and originals bands (covering rock, pop, country & western musical genres) that have opened for headline bands (i.e. Bon Jovi at the Stone Pony, Brian Austin/Skip Ewing, Garth Brooks/Trisha Yearwood, and the Tractor's). 
His main electric bass is one of three actually, Jackson JPB-7, Ibanez SR500TFF, or a Rickenbacker 4003W model.  Preference on strings are Rotosounds Round Wounds (they are bright and ring forever).  His amplifier of chose is a Carvin BX1600 Dual Mono Amplifier head, a BRX 15" bottom speaker cabinet and a BRX 2x10" top speaker cab. 
Over the years, John has played in many musical styles, including jazz, rock, folk, classical, rockabilly, soul, pop, R&B, country, fusion, bebop, big band swing, musicals, and with singer/songwriter as a session player.  He loves the dynamic interplay of structuring a bass part to make a song work well, communicating with artists/songwriters, and being able to give great takes consistently.  His initial musical influences were Rock, Heavy Metal, Neoclassical Rock; from many various bassists (Geddy Lee, Chris Squire, Nathan East, John Myung, and many others).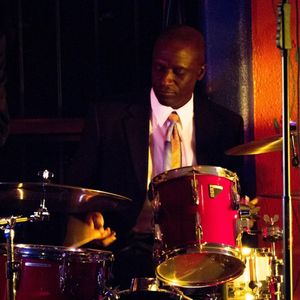 Born in Detroit Michigan (Motown) and raised in Montgomery Alabama Curtis Ritchie was exposed to all types of music at a very early age and learned to appreciate the different styles of music.  His first instrument was the trumpet that he played in the first grade in Detroit. His family then moved to Montgomery Al. Where he learned to play drum set in church.
Curtis is a very skilled and talented musician.  He joined Drum Corps International (DCI) when he was in the 11th grade and toured the country with this world class marching musical show.  He then joined the United States Army Band in 1993 and is now a retired Staff Sergeant with 23 years of Service to our nation.  He has performed all over the country at many different events such as NASCAR, Disney, NBA, NFL and professional Hockey games.  He performed with bands that opened for Lenny Kravits, Three Doors Down, little Big Town.  He even performed for President Barrack and Michelle Obama when they visited Fayetteville NC.
Curtis was raised in church and his father was a Pastor and Musician and that's where he picked up a lot of skills in music.  He got a chance of a life time accompany and perform with the World famous Tony Royster Jr. for about 18 months.  The drum set he plays now was owned by "Tony Royster" who is now playing for the world renown American rapper and businessman Shawn Corey Carter known as "JAY-Z." 
A few of Curtis's favorite drummers include Tony Royster Jr., Buddy Rich, William Kennedy and Marcus Baylor from the Yellow Jackets, Joel Smith (Drummer/ Bass Player) double threat for the Walter Hawkins Singers and Tony Taylor-the new up and coming talent.  Last but not least, Curtis is also a studio musician that can lay multi tracks on any instrument and he thanks God for his talents and ability because it's a great outlet.  When he performs for people, his mission is to send them on a journey that takes them away from everyday normal life and give them a show to remember.